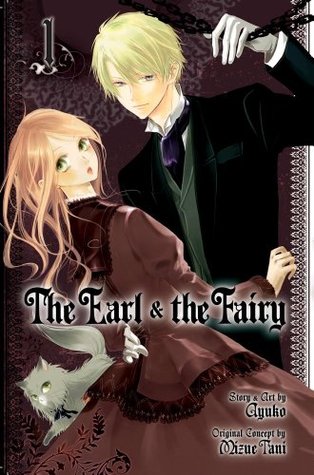 Author: Mizue Tani; Ayuko
Genre: Manga
Published: March 6th, 2012
Publisher: VIZ Media LLC
Number of Books: 4
Source: Purchased Paperback
Available at: Amazon | Barnes and Noble
Goodreads Summary:
Lydia Carlton is a fairy doctor, one of the few people with the ability to see the magical creatures who share our world. During one of her rare trips to London to visit her father, Lydia's quiet life is suddenly transformed when she is rescued from kidnappers by a mysterious young man!
My Rating of this Book – 5 out of 5 stars
My Review:
I've reviewed a couple graphic novels in the past, but this is my first review of a manga series. And this one is definitely worth a review. Though, if I continue to review manga, it will be about the series as a whole, and not on a book-by-book bases. My reasons being that some manga series have way too many books to really review each one, and some series I quit in the middle just because it no longer held my interest.
The Earl and the Fairy was a wonderful escape from reality. The setting and plot captured me the moment I flipped the page. I enjoyed the Victorian England setting of the series, which blends well with the magical aspect as well as the mystery/adventure. I also liked the fair doctor aspect, which connects Lydia between the fairy realm and the real world around her. Especially when it helps solve several of the different clues and puzzles in the main plot. There are some heavy topics brought up, including human trafficking, but there are lighter sides to the series as well.
Lydia was a bit too trusting. Then again, she came from a small town in Scotland and lived a relatively quiet and easy life. Except for the fact that others see her differently—maybe even a little crazy. She also had very low self-esteem. Yet, she worked hard, growing a little more in every book, and had a pure heart which I admired throughout the series. Luckily, she had her fairy cat, Nico, who reminded me of Salem from Sabrina the Teenage Witch. I love how he was Lydia's lookout. He really tried to protect her whenever he could, even from herself. As for Edgar, the Earl—or so he claimed—I could never tell what side he really was on or what his motives were. He had so many secrets from his past, many of which are still to be revealed. The only thing I was confident about was he loves for Lydia. There was no doubt about it. However, there were times I wonder how Edgar would eventually win Lydia over if he continued the path he was on.
The major down side of this series was that, though the forth book ended well enough and states it's the final volume, the series was not complete. Based on some research, the publisher seemed to continue the Japanese version with several short stories as well (more than 27 books listed on Goodreads). Which makes me feel left out of the rest of the story. I, honestly, wish they would publish the rest here in the U.S. I would love to see if Edgar and Lydia really got together and what other mysteries of Edgar's past were revealed.
Even if they don't release the rest, I still recommend the read. Who knows, maybe if the series gets enough interest, the publisher will publish the rest. And it is a wonderful mystery series.