Welcome to the Top Ten of 2014, hosted by Reading YA Rocks, Two Chicks on Books, and Magical Urban Fantasy Reads!! Today is the Books I'm looking forward to in 2014. Here are the ones on the top of my list (in order of release):
Easton doesn't believe in love. He believes in Death. Darkness. Sin. As a reaper for Hell, it's all he's known for over four hundred years. When he gets slapped with the job of training the boss's daughter, an angel who knows nothing but joy, he knows he's in for a world of trouble.
Though he's made it clear he wants nothing to do with her outside of work, Gwen would do anything to get closer to the dark and wounded reaper—even taint her angelic image and join the ranks of her father's team of reapers. But in all her planning, she forgot to factor in one thing—how far the demons Easton doomed to hell would go to get revenge.
When the dangers of the Hell threaten Gwen, Easton will do whatever it takes to save her. But as the darkness closes in on them both, will he be able to save himself?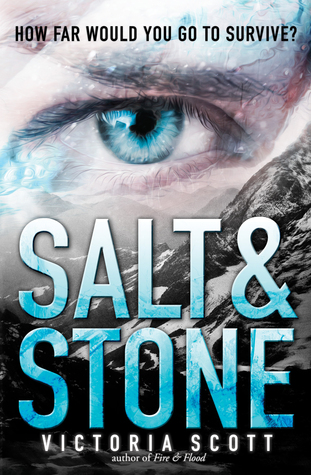 What would you do to save someone you love?
In Fire & Flood, Tella Holloway faced a dangerous trek through the jungle and across the desert, all to remain a Contender in the Brimstone Bleed for a chance at obtaining the Cure for her brother. She can't quit–she has to win the race, save Cody, and then fight to make sure the race stops before it can claim any more lives. In the next legs of the race, across the ocean and over mountains, Tella will face frostbite, sharks, avalanche, and twisted new rules in the race.
But what if the danger is deeper than that? How do you know who to trust when everyone's keeping secrets? What do you do when the person you'd relied on most suddenly isn't there for support? How do you weigh one life against another?
The race is coming to an end, and Tella is running out of time, resources, and strength. At the start of the race there were one hundred twenty-two Contenders. As Tella and her remaining friends start the final part of the race, just forty-one are left–and only one can win.
After dying of cancer at seventeen and being brought back to life by an evil witch who turned her into a monster, Samantha Thompson thinks she's finally gotten past all the tragedy in her life. Now she's part of a coven of good witches who are helping her and her boyfriend, Ethan Anderson, learn to use the powers they received from other witches. Aside from the fact that Sam and Ethan are still in hiding from their old lives–the ones they had before Sam was brought back to life–things couldn't be better. Sam and Ethan are inseparable. What could go wrong? Magic. Ethan's magic came from a witch who'd turned as evil as possible, and though his coven thought he'd be fine, the more he uses his magic, the stranger he starts acting. The magic inside him is changing who he is. One minute he's Sam's sweet, perfect Ethan and the next, he's a complete stranger. Even with all her witchy power, Sam is helpless against the magic corrupting Ethan. Can Sam find out what's wrong with him before she loses him to dark magic forever?"
Action, adventure, and romance are heating up in this sequel to the futuristic science fiction thriller Burn Out. Perfect for fans of Across the Universe and The Memory of After.
Caelia is the new Earth. That's what the Consulate told everyone and, against all odds, Tora finally has made it there. She can't see the ocean from her cell in the Consulate's containment center, and she doesn't know what happened to the weapons her father died for and she's risked her life to save.
But as she plans her escape, she runs into the last person she ever expected to see-her dad. The Consulate has kept held him prisoner in a complicated plot designed to lure Tora out of hiding. Now Tora has a new purpose: break free, get the guns, and save her father.
But first she'll have to navigate a strange new planet, track down James (whose loyalties still remain questionable), and find Kale…before he finds her first.
#6: Name of Ra (Descendants of Isis #3)
Natti and Seth are trying to figure out their next steps to finding and protecting Ra's secret name when they suddenly discover Sean has risen the god, Set, from Duat. Now they are in for the chess game of their life, trying to keep one move ahead before Set claim's Ra's power for himself.
Final novel in the Goddess Wars Trilogy coming 2015.
Sequel to Perfected
#9: Dark Reflections
Dark Reflections is about an 19 year old artist named Alana, who stumbles upon a curse and is cast away onto an isolated island where she literary lives a double life: one as herself and one as a murderer. Adapting to the monster she's become, she lives with the blood of several innocent victims on her hands. That is, until Cole washes on her shore. Now she finds herself torn. She can either accept his fate or fight to find a way to break the spell. Unfortunately, there's only so much time before her alter ego attempts to murder him too.
#10: Your Recommendations??
I don't have a 10th this year. Actually, I've been kind of out of the loop for 2015 young adult and new adult releases. Any recommendations?