Welcome to the Top Ten of 2014, hosted by Reading YA Rocks, Two Chicks on Books, and Magical Urban Fantasy Reads!! Today is 2014's Best Covers. Covers are a big thing for me since I always judge a book by it's cover, generally by content and clarity. Here are my top ten picks of the year:
I have to say both covers of this series are my favorite. Call me bias. But how can anyone resist those eyes? He's exactly how I picture Seth O'Keefe, the prince of charming himself. And the ex-prince of the Sons of Set.
Summary:
". . . the Sons would never just let him go—alive."
Seth O'Keefe has broken the laws of his god. He never thought he would sacrifice his own future to protect a Daughter of Isis. But when the Sons of Set discovered Natti is the Secret Keeper, he had no choice. Now, Seth and Natti are on the run from his father, who wants nothing more than to see Seth dead. With no allies, Seth turns to the Daughters of Isis for help, hoping they would protect Natti. But when they meet the Daughters, he discovers a secret that puts both their lives in more danger. Low on options, Seth sees only one possibility for survival. He must help Natti solve an ancient puzzle and find the secret name of Ra.
Natara "Natti" Stone is having a hard time swallowing the truth. She can't believe what she has learned in the past twenty-four hours: Seth is a Son of Set blessed with charm; she is a Daughter of Isis blessed with a sliver of Ma 'at; the locket her grandmother gave her holds an ancient Egyptian secret linking to Osiris and Isis. That along with being tortured and brutalized by the Sons of Set, she can hardly hold herself together. Thank God for Seth's touch! That warm, tingling sensation that drowns it all out. Yet her heart struggles to stay focused. She must quickly embrace her destiny before the secret name of Ra falls into the wrong hands.

Oh, Caben. Sexy when he's good or evil. And look at his glowing eyes. Not as piercing as Seth's, but boy! I also love the red sky behind him.
Summary:
The moon goddess has taken up residency within Prince Caben, darkening his mind and soul. Now he hunts the very women he sacrificed his life to save, his conflicting desires for love and power raging a battle within him. Kaliope possesses the key to setting Bale free, and Caben will stop at nothing to see his goddess restored. Even if that means destroying the kingdom he's sworn to protect, and the infuriating woman who torments his thoughts.
Kaliope, now the leader to the newly formed Nactue Guard, has vowed to save Caben. But with a traitor lurking among her people, and powers she's unable to fully control, Kaliope's mission becomes shrouded with doubt. Her new role as watcher over Caben's kingdom brings a burden she's unable to bear alone, and appointing the right person in charge of the prince's affairs has turned a kingdom against the Nactue leader. Saving her stubborn, willful prince from the darkness overtaking him will be the battle of her life, and she needs people she can trust by her side. But bad blood between members of the Nactue obscure Kaliope's journey, while her feelings for Caben cloud her judgment.
When the time comes to do what she must to destroy the goddess of chaos, will she be able to if it means losing Caben forever?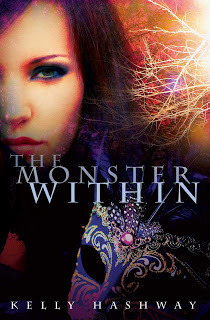 Beautiful! I love the colors and the mask; though I wish it actually played a physical role in the story line. It's more a metaphor. The mask which Sam hides behind.
Summary:
The moment seventeen-year-old Samantha Thompson crawls out of her grave, her second chance at life begins. She died of cancer with her long-time boyfriend, Ethan, by her side–a completely unfair shot at life.
But Ethan found a way to bring her back, like he promised he would. Only Sam came back wrong.
She's now a monster that drains others' lives to survive. And after she kills, she's tortured by visions—glimpses into her victims would-have-been futures had she not killed them. Barely able to live with herself and trying to make things right, Sam ends up a pawn in a vicious game of payback within the local coven of witches.
But when the game reveals what Ethan had to do to save Sam, she must make a choice that will change all their lives forever.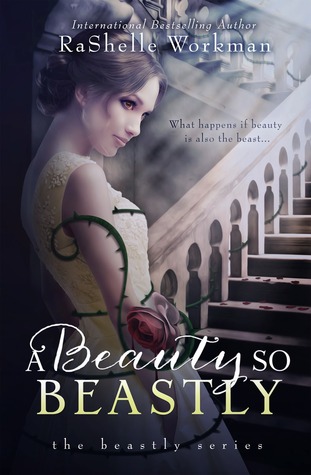 Other than being draw to a new twist of the Beauty and the Beast classic, it was the cover that attracted me to this novel. Unfortunately, I haven't had time this year to read it. Maybe next, as I'm working more on Dark Reflection.
Summary:
"For your vanity, your cruelty, and your cold unfeeling heart, a curse I leave upon you . . ."
What happens if the beauty is also the beast?
The stunning Beatrice Cavanaugh is considered American royalty. She has everything except the ability to love. Cursed on her eighteenth birthday, she becomes more beastly than ever, having a newfound craving for raw meat, and an undeniable yearning for the night. Bitterness is her only companion.
After accusing a maid of stealing, a disgustingly kind and exquisitely handsome guy named Adam shows up asking Beatrice to drop the charges against his mother.
Infuriated by his goodness, Beatrice vows to break him. Destroy him. Make him hurt the way she hurts. So she agrees. On one condition: Adam must take his mother's place as a servant in the mansion.
Because Beatrice won't stop until he's more beastly than she is.
I love the fire in the palm of her hand. And the intensity of her stare. It's like she's mesmerized by the flickering flame.
Summary:
Seventeen-year-old Cara Tillman's life is a perfectly normal one until Logan Schmidt moves to Ashlan Falls. Cara is inexplicably drawn to him, but she's not exactly complaining. Logan's like no boy she's ever met, and he brings out a side of Cara that she isn't used to. As the two get closer, everything is nearly perfect, and Cara looks forward to the future.
But Cara isn't a normal girl. She's a member of a small group of people descended from the mythical phoenix bird, and her time is running out. Rebirth is nearing, which means she'll forget her life up to this point—she'll forget Logan and everything they mean to one another.. But that may be the least of Cara's problems.
A phoenix hunter is on the loose, and he's determined to put an end to the lives of people like Cara and her family, once and for all.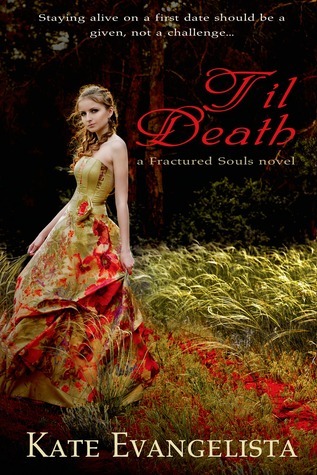 Despite being a story I could not finish, this book has a lovely cover. It's what drew me in to begin with. I love the dress in particular, and how it blends into the mix of grass and blood, making it look like a train.
Summary:
Sixteen-year old Selena Fallon is a dreamer. Not a day-dreamer, but an I-see-the-future kind of dreamer. Normally this is not a problem as she has gotten pretty good at keeping her weird card hidden from everyone in her small town. Except from her best friend Kyle and her grandparents, of course. But when Selena dreams of her own rather bloody death, things get a little too freaky even for her.
Enter Dillan Sloan. Selena has seen the new guy in a different dream, and he is even more droolworthy in person. Beyond the piercing blue eyes and tousled dark hair, there is something else that draws her to him. Something…electric. Unfortunately, Dillan makes it more than clear that he does not feel the same. They just met, so why would he act like he hates her?
When Dillan and Selena are forced together one weekend to work on a school project, Selena prepares to be ignored as usual. But when she stumbles across a few undead in the backyard, Dillan comes to her rescue and reveals a whole lot more. Not only is he part of a society that hunts otherworldly creatures…she is too. And she is being targeted by a force bigger and darker than anything she ever imagined. Despite her death dream, Selena is not going to give up easy, especially when she discovers that Dillan might not actually hate her after all.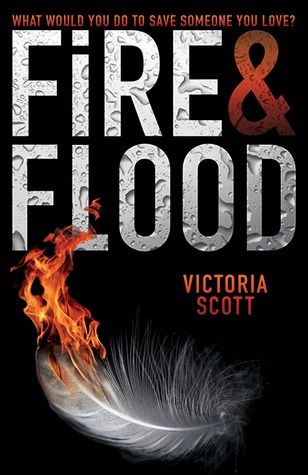 Simple. Which I like. If you're not going to show the character, symbolic is the way to go. Loved the apple on Eve and Adam, and here, I'm attracted to the flame and feather.
Summary:
Time is slipping away….
Tella Holloway is losing it. Her brother is sick, and when a dozen doctors can't determine what's wrong, her parents decide to move to Montana for the fresh air. She's lost her friends, her parents are driving her crazy, her brother is dying—and she's helpless to change anything.
Until she receives mysterious instructions on how to become a Contender in the Brimstone Bleed. It's an epic race across jungle, desert, ocean, and mountain that could win her the prize she desperately desires: the Cure for her brother's illness. But all the Contenders are after the Cure for people they love, and there's no guarantee that Tella (or any of them) will survive the race.
The jungle is terrifying, the clock is ticking, and Tella knows she can't trust the allies she makes. And one big question emerges: Why have so many fallen sick in the first place?
Honestly, I think the thing that attracts me most to this cover is the three cobras in the front. Love snakes! I'm dying to know about that and how they relate to this novel. I really hope to find time to read this novel in 2015.
Summary:
With no more options to venture through, Hassan will be left with only one choice; to flee and start up a new life, leaving all the ties that have braced his entire being. But some ties are too tight, when severed; it will change his balance and force him back to face a tragedy.
Following his leads, Hassan will find himself roaming the streets of London for reprisal. Even with eight spirits by his side, which are connected to him by the tragic event of his birth, he will feel outnumbered, going against the Minerva Group and its limitless arsenal of agents and brutes. Hassan will desperately try his best to stay out of their reach until he finds a way to cut his losses short.
But being too deep in the belly of the beast, he may end up losing more; his life, or even worse… his sanity.
I know it's a simple picture, but this is my favorite cover of the Campus Crush series. I love how they look together. So sincere and in love. It just speaks to me.
Summary:
As a college junior, Mindy Stanton has no interest in dating a freshman.
That is until Ben Whitmore shows up and serenades his way into her heart at the dorm social she's running. And after hearing him sing, even Mindy can't deny that he has a deep, sexy voice that makes her melt.
Even though Mindy makes it clear that she doesn't date younger guys, Ben pursues her anyway. After all, he doesn't seem like the typical college freshman, who is only interested in hooking up, partying until he can't remember his name, or joining a frat. He's a gentleman, a romantic, and definitely knows all the right things to say to sweep a girl off her feet.
So Mindy drops her guard. She allows herself to fall for him. Before she knows it, Ben is all she can think about. To her, he's perfect.
But it doesn't take Mindy long to discover that even the most perfect guys…
Have secrets.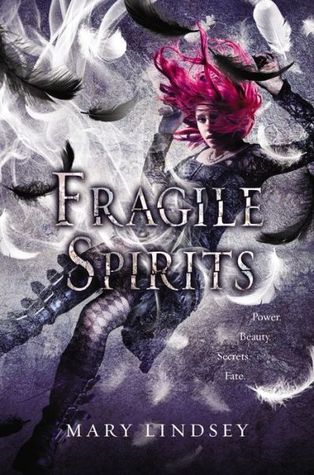 This one just intrigues me. Though it is a bit busy for my taste. Also with everything being pretty much the same color makes it hard to see. But still, it attracts me, making me curious why she's falling and what the feathers represent. I hope to read this next year. I just hardly had time this year. 😛
Summary:
Paul has always known he was a Protector, fated to serve a Speaker who could hear the voices of spirits lingering after death and help those souls find peace.
Vivienne ignores the voices of the dead.
Paul has always followed the Protector's rule book, preparing diligently for the day when he'd be matched with his Speaker and fulfill his destiny.
Vivienne never does what she's told.
So when Paul is matched with Vivienne, they both find the pairing less than satisfactory. But a kidnapping, a malevolent spirit and power stronger than both of them may just prove that they are two halves of the same whole.