Welcome to the Top Ten of 2014, hosted by Reading YA Rocks, Two Chicks on Books, and Magical Urban Fantasy Reads!! Today is 2014's Best Books. These are books picked from what I have read throughout 2014. I generally look for three things in a novel: a captive plot, connection with the characters, and hot swoons. So based on that criteria, here are my top ten picks of the year: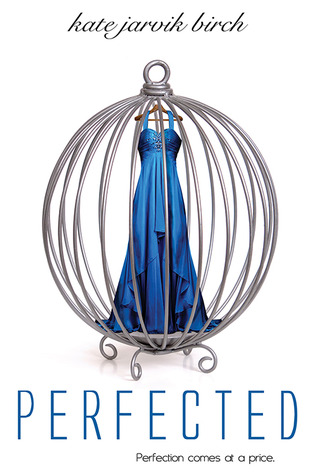 Perfection comes at a price.
As soon as the government passed legislation allowing humans to be genetically engineered and sold as pets, the rich and powerful rushed to own beautiful girls like Ella. Trained from birth to be graceful, demure, and above all, perfect, these "family companions" enter their masters' homes prepared to live a life of idle luxury.
Ella is happy with her new role as playmate for a congressman's bubbly young daughter, but she doesn't expect Penn, the congressman's handsome and rebellious son. He's the only person who sees beyond the perfect exterior to the girl within. Falling for him goes against every rule she knows…and the freedom she finds with him is intoxicating.
But when Ella is kidnapped and thrust into the dark underworld lurking beneath her pampered life, she's faced with an unthinkable choice. Because the only thing more dangerous than staying with Penn's family is leaving…and if she's unsuccessful, she'll face a fate far worse than death.
For fans of Kiera Cass' Selection series and Lauren DeStefano's Chemical Garden series, Perfected is a chilling look at what it means to be human, and a stunning celebration of the power of love to set us free, wrapped in a glamorous—and dangerous—bow.
Review:
When I picked up Perfected, I was definitely intrigued by the concept, but I didn't expect to get hooked after the first chapter. It wasn't a glue-to-your-seat thriller, yet I had a hard time putting it down for any reason. I just wanted to keep reading more.
Now, I will say right away that this novel does contain what I would consider controversial topics, particularly when it comes to human and women's rights. How these girls like Ella were raised and often treated was downright disturbing. There were even times I just wanted to literally puke in disgust. However, I felt the creepiness emphasized the life style, the building political and ethical tension, and the forbidden romance.
At first, I was a bit iffy on Ella's character. I didn't like how she was treated and how she'd often just accept it. Of course, considering her background and her "training" I can sort of understand. When you're raised with a certain life style, there are just things you're simply blinded to. But at least Ella wasn't as ignorant as she first appeared. I liked that she questioned her situation; knew when to follow her heart; and saw the world as it was while still maintaining an innocent hope that things would get better.
Penn, on the other hand, was my all-time favorite character in Perfected from scene one and will potentially end up as a 2014 book boyfriend candidate. I loved his tendency to defy his father at every possible turn; how he treated Ella like a human being rather than a doll or a dog; and how he shared secret parts of his life with her. He was honestly the best part of the novel. Which just made the story even more heart wrenching at the end. I don't want to give away any spoilers, but I definitely hope for a sequel. I can't stand hanging like this.

Some guys have the art of hooking up down to a science.
They know all the right words to say and all the right games to play.
Except…for guys like Mike Hannigan.
The dude has got no game, his pick-up lines never work, and to make matters worse, his wing-man is his female best friend, Mindy.
Until one day, a mysterious raven-haired beauty catches Mike's eye and he's determined to have her. He doesn't care what lengths he has to go to. He'll do whatever it takes to perfect his game and figure out what to say without sounding like a sleaze.
But…
There's always something strange about mysterious girls.
They're usually mysterious for a reason and this girl in particular might be more than Mike bargained for.
Review:
I found Nothing to Tell one of the best in this novella collection. I really enjoyed it! Especially the fact that it was written in the male point of view. Mike was refreshing difference from most of the "Perfect Book Boyfriends." He was realistic, and yes, a jerk. In fact, that was exactly what I loved. Oh, and Mindy!! Who says a girl isn't up to being a guy's wing-man? I think this girl actually rocked at it! Her advice and friendship with Mike was spot on.
As for the storyline, I found it very captivating because it reminded me so much of the old 'Demon Lover' stories they use to tell in Europe. The ones that were meant to warn young men and women to be cautious about mysterious lovers. Except, there was no paranormal element in this contemporary version. Only trouble.
I would definitely recommend this novella. It's fun, quick, and a well worth the read.
As a college junior, Mindy Stanton has no interest in dating a freshman.
That is until Ben Whitmore shows up and serenades his way into her heart at the dorm social she's running. And after hearing him sing, even Mindy can't deny that he has a deep, sexy voice that makes her melt.
Even though Mindy makes it clear that she doesn't date younger guys, Ben pursues her anyway. After all, he doesn't seem like the typical college freshman, who is only interested in hooking up, partying until he can't remember his name, or joining a frat. He's a gentleman, a romantic, and definitely knows all the right things to say to sweep a girl off her feet.
So Mindy drops her guard. She allows herself to fall for him. Before she knows it, Ben is all she can think about. To her, he's perfect.
But it doesn't take Mindy long to discover that even the most perfect guys…
Have secrets.
Review:
Rushing into Love has to be one of my favorite stories this year! I loved Mindy in Nothing to Tell, but her story in Rushing into Love reveals the many layers to this girl, including the girl who just wants to find love.
Though I could really relate to Noelle's sort of luck and clumsy mistakes, I think Mindy was really my soul mate in the series. We are so much alike, always being considered the good girl, follows rules, stays away from trouble. I just glad to see someone like that honestly win out for a change.
Okay, so a small part of me always hoped Mindy and Mike might get together, but I can also understand the whole "We're better as friends" relationship. However, I would not call Ben my favorite book boyfriend. The whole time he was with Mindy, I just had this constant nagging feeling about him. He was too perfect. He was doing everything a girl would dream a guy to do. Call me suspicious, but I don't trust men like that. I more trust men like Mike. And my suspicions were right!
I'm just glad the ending was well worth it. Seriously, there were times this novella had my gut all knotted up. The last thing I wanted was Mindy to become completely broken. The only down side, in my opinion, was I felt the ending was rushed (no pun intended).
Overall, I loved the Campus Crush Series, and I would highly recommend it to anyone looking for a good New Adult read.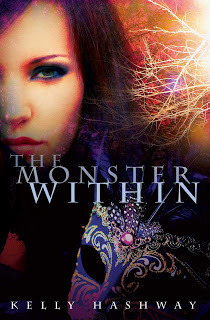 The moment seventeen-year-old Samantha Thompson crawls out of her grave, her second chance at life begins. She died of cancer with her long-time boyfriend, Ethan, by her side–a completely unfair shot at life.
But Ethan found a way to bring her back, like he promised he would. Only Sam came back wrong.
She's now a monster that drains others' lives to survive. And after she kills, she's tortured by visions—glimpses into her victims would-have-been futures had she not killed them. Barely able to live with herself and trying to make things right, Sam ends up a pawn in a vicious game of payback within the local coven of witches.
But when the game reveals what Ethan had to do to save Sam, she must make a choice that will change all their lives forever.
Review:
If you enjoy a young adult twist to the classic Dr. Jekyll and Mr. Hyde with a little witch craft thrown in, then The Monster Within is the novel you're looking for.
The plot was refreshing compared with the usual young adult reads that have been released over the past year. The idea of unleashing the monster inside, even if it's just yourself craving survival and life, hasn't really been played on in a lot of the novels I've seen on shelves, when in fact, many of us actually do battle our inner monsters each day. And though I didn't really see Sam and Ethan as the dark characters that were advertised, the story and antagonist that caused this didn't disappoint. It was definitely intense and the motives behind the whole plot were totally wicked.
The only real head banger for me as I read this novel was that Sam was so trusting. There's a reason to this, and I understand, but I just wish she fought a little harder and questioned certain things a little more instead of being totally blind. Especially when certain stories didn't line up—at least, in my opinion, they didn't. Actually, they kept pointing in a completely different direction as far as I could see.
Overall, this was an amazing standalone novel, and I actually hope there might be a second. Whether it's a sequel or companion I really don't care. Sam and Ethan's story was great, and honestly, I want to read more about Dylan. He was the most fascinating to me and I would love to learn more about him and his past. Hell, I'd love to learn more about the whole coven!
I highly recommend adding this novel to your bookshelves.
The moon goddess has taken up residency within Prince Caben, darkening his mind and soul. Now he hunts the very women he sacrificed his life to save, his conflicting desires for love and power raging a battle within him. Kaliope possesses the key to setting Bale free, and Caben will stop at nothing to see his goddess restored. Even if that means destroying the kingdom he's sworn to protect, and the infuriating woman who torments his thoughts.
Kaliope, now the leader to the newly formed Nactue Guard, has vowed to save Caben. But with a traitor lurking among her people, and powers she's unable to fully control, Kaliope's mission becomes shrouded with doubt. Her new role as watcher over Caben's kingdom brings a burden she's unable to bear alone, and appointing the right person in charge of the prince's affairs has turned a kingdom against the Nactue leader. Saving her stubborn, willful prince from the darkness overtaking him will be the battle of her life, and she needs people she can trust by her side. But bad blood between members of the Nactue obscure Kaliope's journey, while her feelings for Caben cloud her judgment.
When the time comes to do what she must to destroy the goddess of chaos, will she be able to if it means losing Caben forever?
Review:
And here I thought I'd just take my time, relax, and read Of Darkness and Crowns, the sequel to Of Silver and Beasts. Yeah, right . . . I was like on the edge of my seat—my foot tapping impatiently—only a few chapters after I got started. LOL.
I swallowed this novel, becoming obsessed, particularly for Caben and his new point of view. He brought me over to his side. The dark fantasies and his lust for control. I just couldn't get over him and the greed that consumed his thoughts. He was the best part of the entire story, even when he was being a jerk. I sometimes couldn't believe—or understand—how Kal could actually resist him and his new found power. I wanted her to fall under his spell, just like I had. Yet she kept strong, which for the plot, was outstanding!
Then there was Caben's emotional and mental struggles: love or power; protect or kill; serve or rule; sacrifice or die. I LOVED them! I loved understanding him. Understanding the darkness that everyone tries to hide. It might've not been his true self, but it wasn't as if the goddess Bale changed him. She just brought to light a mindset he suppressed. And it was interesting to see how his conscious battled it.
Kal, on the other hand, didn't impress me this time. Mostly because I felt she was constantly making the wrong choices and wasting time. First off, five months!! Honestly? I don't think I could let the Caben I knew before Bale took him suffer what he did for that long. If anything, I would have used every minute of every day to research. In five months, I would have learned everything known to mankind about Bale. What were her weaknesses? How long it would be before Caben would be lost to her darkness? Was there a cure or ritual to break her hold on him, or at least suppress her? Anything!
Also, she put her faith in the wrong people. I never felt that the Empress was wise or really someone to follow without question. I'm just not like that—ask anyone. But if I was Kal, I would have at least broken my ties with her after she declared Julian the new ruler of Caben's kingdom in Kal's place. The Empress seriously showed a lack in judgment on that call, and a lack of faith in her own Nactue Guard leader, which made me so made.
The one thing I did enjoy about Kal, however, was that she was more human. Yes, she obviously made mistakes, as I pointed out. Who doesn't? She was loyal to Caben even in his darkest hour. She was optimistic that she could reach him. Maybe cure him. And she was willing to show that she was vulnerable, with or without him. She really grew up in my eyes.
Finally, I'm also very glad the novel didn't take the turn I thought it would at the end. Based on Caben's mother's plan—if it took the direction I thought it was going to—I had the whole third novel written in my head, and it hasn't very thrilling. Yet the final turn during the last battle was perfect. Now I'm excited!!! Sure, I'll miss certain aspects, but the challenge is much greater and far more risky.
Hope to see book 3 out in the next year or so.
Seventeen-year-old Cara Tillman's life is a perfectly normal one until Logan Schmidt moves to Ashlan Falls. Cara is inexplicably drawn to him, but she's not exactly complaining. Logan's like no boy she's ever met, and he brings out a side of Cara that she isn't used to. As the two get closer, everything is nearly perfect, and Cara looks forward to the future.
But Cara isn't a normal girl. She's a member of a small group of people descended from the mythical phoenix bird, and her time is running out. Rebirth is nearing, which means she'll forget her life up to this point—she'll forget Logan and everything they mean to one another.. But that may be the least of Cara's problems.
A phoenix hunter is on the loose, and he's determined to put an end to the lives of people like Cara and her family, once and for all.
Review:
If Into the Fire hadn't kept triggering some hard memories and emotions, I would have swallowed this novel whole. It was that good! Full of suspense and romantic tension.
I could really relate to both Cara and Logan, as you could tell from my earlier comments. I had similar situations, some even recently. Practically when it came to family hardships and what was referred to by Cara and her family as "imprinting." Those strong emotions. That strong attraction. How hard it is to stay away. Their story truly coincided with my actual life, only better results.
Though the inner thought was amazing in most of this novel, there were other things I didn't like about the style. It didn't feel the same as other works by Ashelyn Drake or Kelly Hashway; such as the settings. With The Monster Within and Campus Crush I could get at least a basic lay out of the town, campus, and houses. But in Into the Fire, I felt the description lacked. I couldn't even get a feel of Cara's or Logan's bedrooms, which makes it difficult to picture the characters.
Also, a lot of the beginning and even some of ending dialogue was continuous and untagged, as if most of the interweaved action was cut from the text. I couldn't place what the character was doing, what emotions they were feeling, or how the conversation was affecting them at the time. It was just pure conversation.
But, OMG, what an intense, heart wrenching ending! Forget the first chapter in the back of the book; this novel will make you want the sequel, Out of the Ashes, now!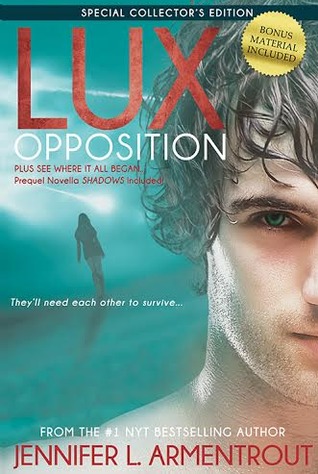 Katy knows the world changed the night the Luxen came.
She can't believe Daemon welcomed his race or stood by as his kind threatened to obliterate every last human and hybrid on Earth. But the lines between good and bad have blurred, and love has become an emotion that could destroy her—could destroy them all.
Daemon will do anything to save those he loves, even if it means betrayal.
They must team with an unlikely enemy if there is any chance of surviving the invasion. But when it quickly becomes impossible to tell friend from foe, and the world is crumbling around them, they may lose everything— even what they cherish most—to ensure the survival of their friends…and mankind.
War has come to Earth. And no matter the outcome, the future will never be the same for those left standing.
Review:
Full Review Still to Come. Really, 4.5. It was definitely better than Origin (Lux #4), but still not as good as Lux #1, #2, or #3. And I really didn't see the point of Chapter 24 or 25. But at least it didn't go in the direction I feared it would at the beginning, which was a Lux version of the final Twilight.
Action, adventure, and romance are heating up in this sequel to the futuristic science fiction thriller Burn Out. Perfect for fans of Across the Universe and The Memory of After.
Caelia is the new Earth. That's what the Consulate told everyone and, against all odds, Tora finally has made it there. She can't see the ocean from her cell in the Consulate's containment center, and she doesn't know what happened to the weapons her father died for and she's risked her life to save.
But as she plans her escape, she runs into the last person she ever expected to see-her dad. The Consulate has kept held him prisoner in a complicated plot designed to lure Tora out of hiding. Now Tora has a new purpose: break free, get the guns, and save her father.
But first she'll have to navigate a strange new planet, track down James (whose loyalties still remain questionable), and find Kale…before he finds her first.
Review:
Review to Come!
Their love could destroy them all.
Through the ages, Marked Ones have harnessed the powers of the four elements: Water, Fire, Earth, and Air. Much about the elements is shrouded in mystery, but one thing is certain: A relationship between two Marked Ones has the potential to cause widespread devastation.
Megan and Adam—Air and Water—are determined to defy the risks.
But the power that swirls inside Megan is growing in twisted ways. And the closer she is to Adam, the closer Megan comes to unleashing a dark force that could spell destruction for the entire Marked line.
Review:
I felt that, compared to Carrier of the Mark, Shadow of the Mark was a slower paced novel. For most of the novel, the relationship Megan and Adam felt stagnate, which I felt hindered the plot. Also, some of the actions and dialogue made the characters seem younger than their actual age.
However, it was intriguing watching Megan struggle with the growing power inside her and how that struggle affected the powers of Adam, Rain, and Aine. I also enjoyed the introduction of the new characters at play in this power struggle, especially Chloe. She's definitely a character to watch in the next book. Particularly with the plot twist toward the end of Shadow of the Mark. That was completely unexpected, and also what helped boost the ranking.
Overall, this was good sequel to the series. I can't wait to see where the final novel leads.
To save a kingdom, Zara must choose between a prince who could be the answer and a rising rebellion that threatens to take control.
When Zara Dane is chosen to marry Prince Sebastian Hart, son of the man who ordered her father's capture, Zara knows she must fight to save everything she loves from ruin.
Being betrothed to the prince means a life trapped behind the towering stone walls of the Camelot-forged realm. Under the watchful eye of the prince's first knight, Sir Devlan Capra, changing her future becomes difficult.
When an unlikely rebel reveals the truth about the deadly secrets that fuel King Hart's twisted world, Zara's path to rescue her father becomes clouded by deception. The Rebels clear her path by forcing Zara's hand with an ultimatum: sway Prince Sebastian to join the Rebels, convincing him of his father's evil nature, or they will take him out.
But Zara is uncertain about a future under the Rebels' command and where the prince's heart truly lies. She must decide who to trust, what to believe, and what she's truly fighting for before the king destroys all of Karm, including her heart.
Review:
Compared to the rest of Trisha Wolfe's fantasy worlds and Dystopia settings, I found Fireblood a little lacking and less believable than her other novels. For one, the setting and culture of the new world was too medieval. With the time span being so short between modern day, the 2016 war, and the Camelot Utopia, it's hard to believe every aspect of today's culture and slang would be completely erased from this futuristic society. Even from the few books Zara's father had her read, she should have been familiar with the word "tomorrow," despite whether or not modern speech was band in her era.
I also had a hard time wrapping my head around how fast Zara picked up sword fighting throughout the novel. Two weeks of night training and she was suddenly a natural? I wish that could be true, but I know it takes months, even years, for muscle memory to finally kick in. I think it would have been more believable if maybe Zara had some previous training from her father, or if Zara had to still think through each step and remember each lesson while she battled the Force.
Otherwise, Fireblood was an amazing adventure! A little slow at first, but once you get more in depth with this society's deceptions and King Hart's tyranny, the story moves much more quickly. I also loved the characters. Zara wasn't really as kick-ass as Trisha's other characters. Her motivation to escape the castle even wavered from time to time. But in a way, I think that made her a bit more realistic, especially for a girl her age. I know I would have my doubts if I were in her place.
As for the boys, Devlan and Sebastian, I was for Devlan all the way since Sebastian's true nature were pretty transparent to me, as were his motives. Though there were times Devlan frustrated the hell out of me too. *huffs* Men.
Overall, a great read! I would definitely recommend.