Author: Magan Vernon
Age Group: NA
Genre: Contemporary Romance
Release Date: 8/25/14
Goodreads
The sequel to the international hit, The Only Exception.
A boy burdened with a family legacy.
A girl haunted by a shattered past.
Both searching for answers to a future threatened by the unknown.
Three years ago, conservative Trey Chapman and liberal Monica Remy met their match in one another – and made the only exception that would change their lives forever.
Now, Trey's father is running for president, forcing Trey and Monica to put aside their personal beliefs to be the model of perfection.
But fate has other ideas, casting the family in scandal.
Some seek to use that disgrace to further their family legacy, while others refuse to let go of the past. Trey and Monica soon find themselves lost among questions that challenge their true feelings. Will they be able to rediscover that the only answer lies with one another, or will they lose each other forever?
***Guest Post: Why I Chose to Write About Love and Politics***
I was a Political Science and Women Studies major in college. (GASP JUST LIKE MONICA!). So I've always been interested in politics. I actually enjoyed going to class and having intellectual debates with my classmates (weird, I know).
After college I started writing and I really wanted to work politics into a book, but not everyone enjoys politics as much as I do so it took awhile before I could come up with the perfect plot. After watching an episode of New Girl in which Schmidt pretended to be the son of Governor Romney, the idea hit me: A liberal girl moves next door to a conservative Governor's son.
But I knew there was more to this story. I knew I had to add in my own story. I tried to dance around some of the political issues but my critique partner (Laura Pauling) pushed me further. She said people had to know about it. My critique partner (Kelly Viel) also helped to see both sides of the issues in play in The Only Exception and The Only Answer.
There are people that think I have some kind of political agenda writing this, but my real agenda was to get a story heard. A story that deals with love, politics, and real life issues that happen. It means more to me than anything when someone emails me and tells me this story inspired them or helped them get the help they needed.
***See where Trey and Monica's story began, in The Only Exception***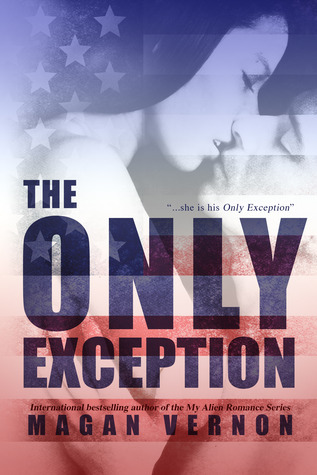 ***Giveaway***
***About Magan Vernon***
Magan Vernon is a Young Adult and New Adult writer who lives with her family in the insurance capital of the world. When not writing she spends her time fighting over fake boyfriends via social media.